(5 intermediate revisions by one other user not shown)
Line 7:
Line 7:
 
 
 

http://www.autonews.com

 

http://www.autonews.com

 
+
 
+

http://www.autosite.com

 
 
 

http://articles.latimes.com

 

http://articles.latimes.com

Line 75:
Line 77:
 

*[[1994]]

 

*[[1994]]

 

*[[1995]]

 

*[[1995]]

 
+

*[[1995.5]]

 

*[[1996]]

 

*[[1996]]

 

*[[1997]]

 

*[[1997]]

 

*[[1998]]

 

*[[1998]]

 

*[[1999]]

 

*[[1999]]

 
+
 
+
 
+

See also:

 
+

*[[List of last model years]]

 
+
 

==Vehicles by body style==

 

==Vehicles by body style==

 

<gallery orientation="landscape" position="center" navigation="true" captionalign="center">

 

<gallery orientation="landscape" position="center" navigation="true" captionalign="center">

Line 91:
Line 99:
 

96vandura.jpg|Van|link=Van

 

96vandura.jpg|Van|link=Van

 

</gallery>

 

</gallery>

 
+

==See also==

 
+

*[[List of cars by manufacturer]]

 
+

*[[List of retail prices]]

 
 
 

<mainpage-endcolumn />

 

<mainpage-endcolumn />
---
Revision as of 11:58, 26 August 2019
Welcome to the Cars of the '90s Wiki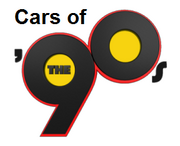 Information about automobile vehicles, all made in the United States of America during the 1990s. They are cars your parents used to own, or cars you used to own upon getting your first driver's license. These automobiles were priced at about 2/3 of today's cars.
Some info comes directly from the CD-ROMs, while others (mostly the late 1990s models) come directly from the cars' oldest websites. Other sources include articles from these websites:
http://articles.chicagotribune.com
http://articles.orlandosentinel.com
Manufacturers
There are exactly 40 in all.
Vehicles by year

See also:
Vehicles by body style
See also
Community content is available under
CC-BY-SA
unless otherwise noted.