Welcome to Retro Cars!
[
]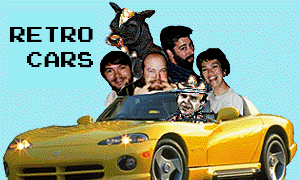 Retro Cars, formerly known as "Cars of the '90s" as of March 31, 2021, contains information about automobile vehicles manufactured in the United States of America from the past, ranging from model years 1984 through 2003. While most of these cars no longer exist as much today, a few of them still remain on the road.
Some info comes directly from the CD-ROMs, while others (mostly the 1997-2003 models) come directly from the cars' oldest websites. Other sources include articles from these websites:
http://articles.chicagotribune.com
http://articles.orlandosentinel.com
Manufacturers
[
]
There are exactly 40 in all.
Vehicles by year
[
]
Vehicles by body style
[
]
See also
[
]